QuarterBlind released their high impact debut album "Bleeding The Guilty" worldwide in 2007 and have never looked back since!

Gaining superb high profile reviews and an extensive gig list playing over 60 shows promoting their first album, sharing the stage with bands such as; Sylosis, The Defiled, Seven Year Kismet, OutCryFire, Speed Theory, Chaos Blood and Trigger The Bloodshed, moving onwards & upwards, the metal monsters are set to release their follow up album 'The Root Of Affliction'(BER002CD) worldwide through Brutal Elite Records on September 6th 2010.

Never tailoring their sound to fit with the scene, nor artificially trying to distance themselves from it, QuarterBlind consistently stand out from the crowd by combining infectious grooves, melodic hooks and an underlined darkness with an undefinable original quality.

QuarterBlind remain one of the most exciting bands in the UK and show no sign of slowing.

Brace for impact!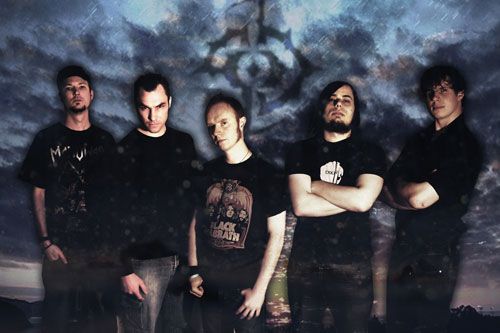 | | |
| --- | --- |
| Guitar | Lee Holden-Rushworth |
| Guitar | Andrew Stalham |
| Vocals | Nathan Hamley |
| Drums | Adam Chandler |
| Bass | Robert Stalham |
Past Tour Dates
| | | |
| --- | --- | --- |
| 13/08/2010 | Green Park Tavern - Bath | QuarterBlind + Agressor + Twisted + TBA |
| 28/08/2010 | Peewees - Trowbridge, Wiltshire | 20 band metal festival |
| 04/09/2010 | The Cavalier - Devizes, Wiltshire | QuarterBlind + White Knuckle Bride + Deliverance |
| 11/09/2010 | Green Park Tavern - Bath, Avon | Romeo Must Die + Spirytus + Flayed Disciple + QuarterBlind + many more..... |
| 18/11/2010 | Peewees - Trowbridge, Wiltshire | QuarterBlind + TBA |
| 20/11/2010 | Calne Football Club - Calne, Wiltshire | All day metal event |
| 05/03/2011 | Hobgobling - Staines, Surrey | QuarterBlind + Bloodloss |
| 10/03/2011 | Peewees - Trowbridge, Wiltshire | QuarterBlind + TBA |
| 23/04/2011 | Rampage Festival - Ramsbury, Wiltshire | Seregon, QuarterBlind, 2 Sick Monkeys, Ktunk, Good Things Happen In Bad Towns, Kubris + more TBC |
QuarterBlind Links





Copyright 2009-2015 Brutal Elite Records Ltd. All Rights Reserved.
Registered in England & Wales No. 07089564
VAT Registration No. 980 8475 76